'Caring for the Adolescent- together'
An Intensive Course for High School Steiner Teachers
Years 7 to 12
Monday 15th January-Friday 19th January 2018
---
Welcome to our 2018 Steiner High School Teachers Intensive! We have developed an inspiring and nourishing program which expands last year's successful inaugural conference. This year in our subject studies we now offer new topics such as Student Welfare, Practical Arts and Drama in addition to the full range available last year.
The forthcoming 2018 High School Teacher's Intensive extends and develops the previous year's theme by moving more deeply into the question of how we, as teachers, can develop the knowledge and skills to build community in a contemporary context. We are working with an understanding of 'community' as one which encompasses the realities of the spiritual world.
This challenge is a most pressing one, in a current climate of a generalised crisis in adolescent mental health. Research undertaken in 2017 shows that:
1 in 5 children have mental health problems;
43% increase in ADHD
37% increase in teen depression
200% increase in suicide rate in kids 10-14 years old.
At last year's conference Robert spoke poignantly of the imperative of comprehending the classroom as a community, wherein our sense of purpose individually is found, in relationship to others. The health of the inner life of the adolescent is intimately connected to either the loss of a true community or conversely, to the remaking of community where they can truly meet the other. This is expressed in the social ethic verse:
The healthy social life is found
When in the mirror of each human soul
The whole community finds its reflection
And when in the community
The virtue of each is living
This year Lisa Devine will offer three keynote addresses where she will expand on this theme. We will explore how we, as teachers, can gain a deep understanding of the nature of community, of how we work together practically to build this in order to support healthy adolescent development.
The subject studies sessions have been expanded in number and variety.
These sessions provide the opportunity for collegiate discussion of how to shape a Main Lesson to encourage students to explore concepts rather than to merely acquire knowledge.
Our program is again well balanced with artistic work, singing before the keynote lecture, Eurythmy or Bothmer Gym after morning tea and Sculpture in the afternoon.
All attendees will receive a Certificate referencing AITSL Standards which will allow you to claim your time as professional development for teacher registration purposes.
The program timetable for the week is as follows: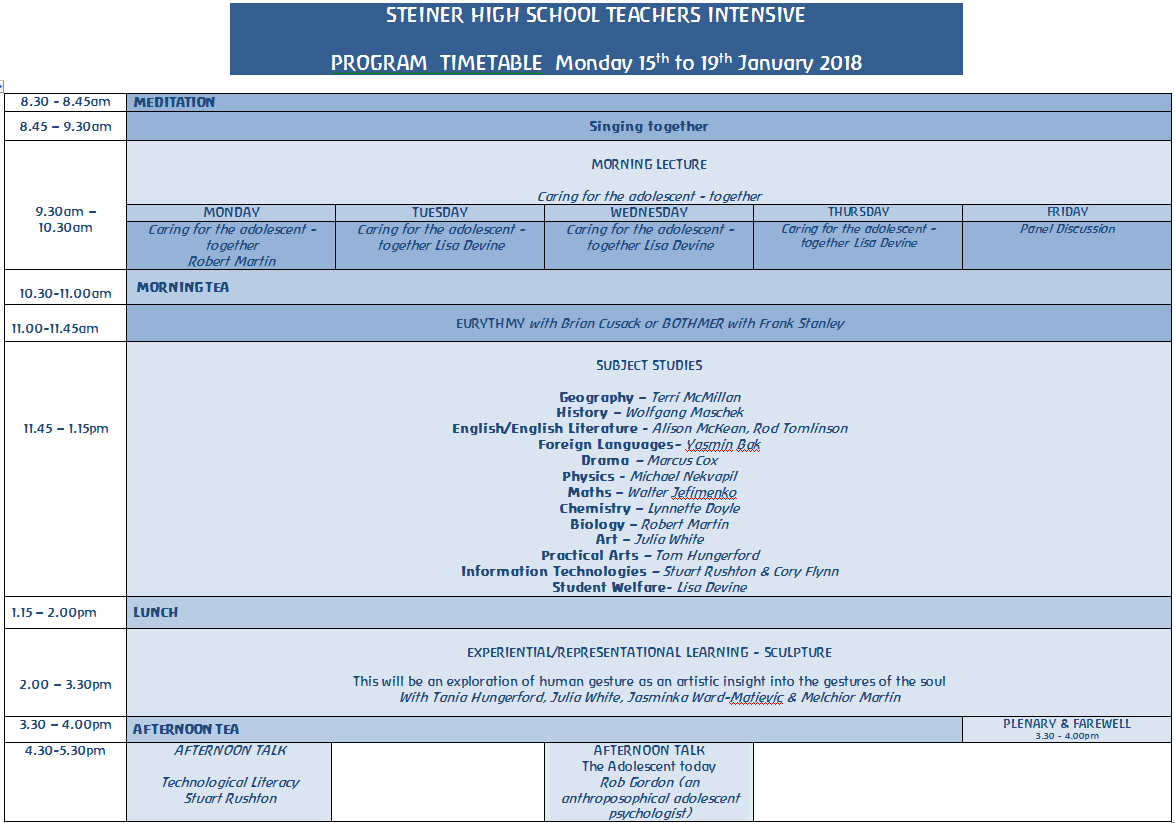 You can download and and print this program here.
Sculpture overview- exploring the gestures of the soul through sculpture
Through the human gesture, our deepest inner being is expressed. Part of being an adolescent includes experimenting with different ways of being. As we grow older, these gestures become part of our fixed pattern of behaviour. Our inner life is expressed through gestures, and our gestures inform our inner life- in this sense there is a strong reciprocal relationship. And yet, we are mostly unconscious of our gestures.
Sculpture offers us an opportunity to bring a new awareness of this relationship to consciousness. In these sessions we will seek to deepen our understanding of gestures, with consideration of developing empathy for the thinking and emotion that lies within. We may ask what is archetypal and what is individual about the human gesture? We will sharpen our observation skills, in relation to human proportions and expression, and also consider the finer nuances of gestures: what, for example is the difference between begging, demanding, asking?
About the Presenters.
Read about the Course Presenters here.
Information for participants
When: Monday 15th January-Friday 19th January
Where: Melbourne Rudolf Steiner Seminar
37A Wellington Park Drive, Warranwood VIC 3134
Cost: $530.00 plus options as outlined below.
Meals
Catering for this conference includes morning tea, lunch, and afternoon tea. For visitors staying on for the evening there are options to pre-book and purchase an evening meal. If you wish to do this it is essential for planning purposes that you nominate this on the online application form.
Monday to Wednesday nourishing catered evening meal ($18 per night) and interest groups, by arrangement.
Accommodation:
School Gymnasium: space and showers are available at the neighboring Melbourne Rudolf Steiner School gymnasium which is two minutes away on foot. Bring your own sleeping mat, bag and pillow. Breakfast available at the Seminar.
Camping: you are welcome to bring a tent, mat and bag and camp on the grounds of the Seminar. Showers available at the school gymnasium.
Cost for either of these options above (includes breakfast) $30.00 for the week.
Private accommodation: If you are looking on accommodation websites such as Air BNB or Stayz, and you would like to be close by to the Seminar, you might like to focus your search to areas such as Croydon, Croydon Hills, Warranwood, Ringwood, and Warrandtye  (if you would like to be near the Yarra River).
Transport:
There are various bus routes that operate in the area. This link to the Public Transport Victoria website allows you to plan your journey, once you have established where you will be staying. You will need to purchase a MyKi card available from various outlets including train stations, the airport, newsagencies, in order to get around Melbourne by public transport.
To register for this program:
Please register as soon as practicable, for our planning purposes. Our office closes mid-December and reopens just before this Intensive. We will monitor email correspondence during this period. If you wish to speak to the Coordinator during this holiday period please call 03 9876 5199 and the phone will be diverted accordingly.
Information: Jeff Onans, tel. 03 9876 5199 or j.onans@steinerseminar.com